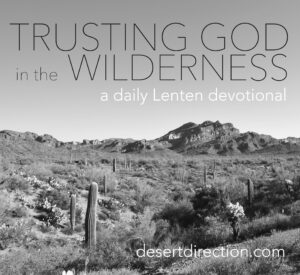 As we journey through life, we often find ourselves in a desert kind of place. A place that feels desolate, lonely, harsh, and perhaps unfamiliar. And we might even feel the compulsion to escape and run to more familiar landscape. However, we are invited to resist that temptation for it is in those dry, desolate, lonely places that the Father does some of His best work. It is in those places where our souls become dry and thirsty that we unwilling to settle for clichés and easy answers. The stripping and unmasking of the desert are so good for our souls. If we desire God, the wilderness is where transformation occurs.
The 40 days of the Lenten Season (which starts tomorrow) is an invitation to journey like Jesus did in His 40 days of temptation in the wilderness. In many ways, Jesus' wilderness time was a redemptive "redo" of the 40 years that the people of Israel spent in the wilderness. He faithfully endured temptation, danger, and fasting in order to model something for us. He was giving us an example of how to faithfully navigate the vicissitudes of life. In Lent, as we engage in a fast or discipline of some kind, we are following "in His steps." (1 Peter 2:21)
In 1 Corinthians 10, the Apostle Paul encourages us to learn from the example of the people of Israel and not do what they did. As we engage with God over these next 40 days, we are able to experience faithful response to God as Jesus did, (Hebrews 5:8) leaving behind the ways in which we are tempted toward the lack of trust that typified the people of Israel.
In these next 40 days, we will walk through this passage step by step:
For I do not want you to be unaware, brothers, that our fathers were all under the cloud, and all passed through the sea, 2 and all were baptized into Moses in the cloud and in the sea,3 and all ate the same spiritual food, 4 and all drank the same spiritual drink. For they drank from the spiritual Rock that followed them, and the Rock was Christ. 5 Nevertheless, with most of them God was not pleased, for they were overthrownin the wilderness. 6 Now these things took place as examples for us, that we might not desire evil as they did. 7 Do not be idolaters as some of them were; as it is written, "The people sat down to eat and drink and rose up to play." 8 We must not indulge in sexual immorality as some of them did, and twenty-three thousand fell in a single day. 9 We must not put Christ to the test, as some of them did and were destroyed by serpents, 10 nor grumble, as some of them did and were destroyed by the Destroyer. 11 Now these things happened to them as an example, but they were written down for our instruction, on whom the end of the ages has come. 12 Therefore let anyone who thinks that he stands take heed lest he fall. 13 No temptation has overtaken you that is not common to man. God is faithful, and he will not let you be tempted beyond your ability, but with the temptation he will also provide the way of escape, that you may be able to endure it.

1 Corinthians 10:1-13
Each week, we'll explore one of these situations which confronted the people of Israel. We will pray through issues like willfulness, idolatry, lust, doubt, pain, and suffering. That list may sound daunting, but God is "abundantly present" with us and will walk with us step by step on the journey as we navigate the terrain toward faith and trust.
Sundays are not traditionally included in the 40 Days of Lent and are usually a bit of a respite from one's fast or discipline. So, on Sundays, we will stop and pray through an examen prayer and celebrate the grace and love of God that we are noticing throughout the previous week.
The pandemic of this last year that continues on is a kind of wilderness in which we've been uprooted from the familiar and are now in a waiting kind of space. What is next? When will "next" arrive? How will this new life be? In addition to this communal wilderness, many of have also experienced the wilderness of loss in other ways as well.
As we enter into these 40 days together, let's begin by noticing desire. More than being rescued from the pain and finding life on the other side of the wilderness, let's begin by noticing the deeper desire to know God and trust Him in the wilderness.
Question for reflection: are there ways in which you have located your desires outside the wilderness? Ask God what it might look like for you to be present in the wilderness with Him.
Prayer: Lord, by your mercy and through your grace, give me eyes to see that what I desire more than anything else is to know you and trust you. I entrust to you my pain, my confusion, my frustration and ask that I become more and more aware of your good presence with me. Amen.
The daily readings for this lenten devotional can be found here.